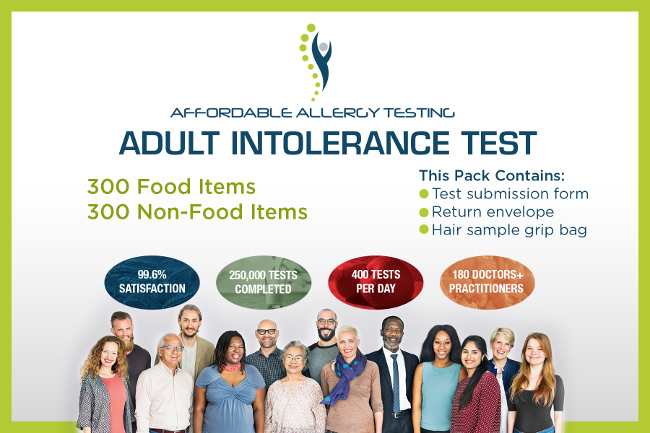 Interview with Ms. Lisa Blaurock, the Founder and President of Affordable Allergy Testing
Let's start at the beginning: there are two main types of allergies and MANY types of food sensitivities. All of them are on the rise, affecting people of all ages from babies to the elderly and making their lives miserable. Lucky for us, only 2% of allergies pose serious threat to our health. (The remaining 98% rob us of quality of life, "only".)
Here is the lowdown on allergies and allergy testing.
If you experience a swift (within 2 hours or less) negative reaction after consuming or being otherwise exposed to something, your doctor will likely order an allergy blood test (enzyme-linked immunosorbent assay) which measures the blood level of immunoglobulin E (IgE), an antibody the body makes in response to exposure to allergens. (The test result will indicate whether your IgE levels are higher than normal which confirms an allergy diagnosis.)
If your symptoms are vague and difficult to link to a specific allergy trigger, chances are you suffer from a non-IgE mediated allergy. If you're lucky and your doctor shares your concern, he or she might recommend a skin test. There is a skin prick test (involves a needle!), intradermal test (also involves a needle!) and a skin patch test (for contact dermatitis). Each of the skin tests exposes the patient's skin to a suspected allergen. The diagnosis is based on the patient skin's reaction to the exposure.
Both types of tests are unpleasant, costly and limited in scope. It is likely that an allergy to a suspected allergen will be confirmed. A test for a suspected allergy to an unknown allergen, may not help identify the trigger. (That's especially true in case of food sensitivities!) Both types of allergy tests have some risks. Allergy skin test may cause a severe allergic reaction. Allergy blood test may cause a vein inflammation or excessive bleeding, especially in people using blood thinners. Worse, the results of an allergy blood test or skin allergy test can be compromised by taking over-the-counter drugs or exercising!
BREAKING NEWS:
A new alternative to our expensive, unpleasant and less than comprehensive allergy tests has arrived, the Affordable Allergy Testing! It is PAINLESS, hassle-free and affordable. You don't need a referral or your doctor's approval, you can order it yourself. Better: it produces much more comprehensive results which cover nutritional deficiencies, allergies and food sensitivities. (You'll receive a DETAILED, easy to understand report by email!) The test is safe for everybody. It works for people. There is even a test developed specifically for pets!
What is it?
Hair sample allergy test! The latest science shows that up to 43% of allergies are in fact a reaction in T Cells (T lymphocytes). The Affordable Allergy Test tests a hair sample for changes at a cellular level! It takes just 5 hairs. Colored hair won't compromise results. Got no hair to spare on your head? Use the hair on your arm or leg.
How does it work?
It couldn't be easier! You get to choose the type of test you need (i.e. Food Intolerances, Environmental Allergies, Vitamin Nutrient Deficiencies and more). Once you make payment, you'll receive a submission form by email. You'll mail the completed form along with your hair sample (in a zip-lock bag) to the lab. In 10-14 days you'll receive results of your hassle-free allergy test by email!
Believe it or not, the EPA recommended hair analysis as THE BEST way to identify environmental toxins in the body back in the 1970's. Yet, U.S. labs never embraced the technology. Why? When you know what triggers your allergy, you are empowered to make changes: you can adjust your diet or other environmental factors to avoid further problems and improve quality of your life. You can do that all by yourself, without the help of costly prescriptions. In plain English: empowered patients translate into hefty financial losses for the pharmaceutical industry, enough said.
The Affordable Allergy Group's lab is based in Europe. It has been around for over 10 years. It has top of the line equipment. It has completed over 250,000 tests worldwide and currently processes more than 400 tests a day. And now the painless, hassle-free test is available to U.S. consumers!
*
The editor of Los Angeles Health Directory spoke with Ms. Lisa Blaurock, the Founder and President of Affordable Allergy Testing.
Editor: What inspired the creation of Affordable Allergy Testing?
President of Affordable Allergy Testing: After having my kids, I always struggled with my weight. I even had a lap band surgery (also had the band removed… long story). After I had the band removed my doctor told me he would see me back when I start gaining weight, again… What??? I hardly ate and sure enough, the weight started to creep back on…
Finally, I found a doctor who suggested I get an allergy / intolerance test… to the tune of $850!!! But I was desperate for answers… When I got the results I learned that I was allergic to gluten and dairy among other things…. I quit the foods that made me sick cold turkey and realized that all the symptoms I was having: heartburn, burping, upset stomach etc. were caused by the foods I used to eat.
Several months later my daughter (a college athlete) complained of her frequently upset stomach and bloating. So, I decided to find a less expensive way to get her tested… This time: $250.00… After getting her results (just like me, she is gluten and dairy intolerant) it occurred to me that millions of people experience similar, disabling symptoms and many are unable to afford allergy testing. I contacted a lab and asked to partner with them. This is how Affordable Allergy Testing came about.
I am not a medical professional, not a revolutionary… just a mom and a woman over 50 who like so many others searched for a solution to her health woes.
Editor: Turned a crusader for consumers!
President of Affordable Allergy Testing: You might say that.
Editor: What are the advantages of the hair sample allergy test?
President of Affordable Allergy Testing: The test kit allows you to take the test from the comfort of your home. The hair sample test makes positive and negative matches to over 600 items including food products, by-products such as lactose, gluten etc., nonfood items, pollen and dust mites etc. The price is significantly lower than traditional testing. This lowers the cost of healthcare for those of us who have high deductibles. The test is safe and its results aren't compromised by lifestyle. Perhaps most importantly, Affordable Allergy Testing puts control of your health where it belongs, in YOUR hands!
Editor: Where is your lab located?
President of Affordable Allergy Testing: The Affordable Allergy Group's lab is based in Europe. To make the process of submitting samples for testing easy and affordable for U.S. consumers we established a dispatch location in Lawrenceville, GA.
Editor: The concept of affordable allergy testing is in-line with today's trend of informed healthcare choices. Like the DNA tests, full body MRI scans and other tests available to health-conscious consumers on demand. I love that!
I know that the hassle-free allergy test is available to consumers directly on your Website www.AffordableAllergyTest.com. Is there any place in Los Angeles where it could be purchased? Will it be available in my Los Angeles area doctor's office as well?
President of Affordable Allergy Testing: You are right, the fastest way to order the test is currently on our Website. We don't have a Los Angeles location as of now. We are however coming to Los Angeles! As a matter of fact, I'd like to extend my invitation to L.A. consumers and Greater Los Angeles physicians to visit us at the LA Fit Expo on January 6the and 7th at the L.A. Convention Center. We'll welcome questions. The hassle-free allergy test will be available for sale as well. We will be in booth 553 and I look forward to meeting Angelenos!
Editor: Thank you Ms. Blaurock for bringing the much needed, non-invasive, safe and comprehensive Affordable Allergy Testing to Los Angeles!
Affordable Allergy Testing
January 6th and 7th: LA Fit Expo (booth 553) at the L.A. Convention Center
Website: www.AffordableAllergyTest.com